Hi, I am Dr. Michael Sokol, and I want to explain what Invisalign is and why it is such a fantastic treatment. At Tristate Dental Spa, everything we do is focused on benefiting our patients.
I think its important for anyone considering Invisalign that it does more than straightens out teeth, but also promotes better gum health as the teeth are aligned properly, less plaque and bacteria is able to accumulate in the crevices of the teeth. I wanted to mention that because Invisalign is not only a cosmetic procedure, but also a health promoting procedure.
Lets take a look a little deeper into the procedures and what you can expect.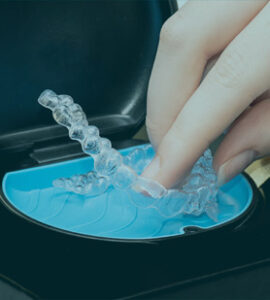 You may have heard of it before. It's a teeth-straightening treatment. It's an increasingly popular alternative to the old-school metal braces. Invisalign is virtually invisible. That is why so many people love it. So how does it work exactly? How can something invisible give you a perfect smile?
Well, brace yourself for what's coming next. Invisalign treatment is practically an invisible way to straighten your teeth using cutting-edge 3D computer-imaging technology. This technology takes the current and final straightened position of your teeth and maps out your personal treatment plan that gradually aligns your teeth. Then, every few weeks, you will replace your current "invisible braces" with a new set of aligners until you have your perfect smile!
Do my teeth move with Invisalign?
Yes it moves teeth by applying a controlled force to different parts of your teeth during the various stages of your treatment.
Only specific teeth can only move with each new set of aligners you wear.
That gives me much more control as the Dentist, and for you, it's a painless way of aligning your teeth compared to metal braces.
What is Invisalign made of?
It is made from transparent, medical-grade thermoplastic. The material is smooth, so you do no need to worry about discomfort when sleeping!
What are the biggest benefits?
Oh, where do I begin?
Unlike traditional metal braces, Invisalign aligners are removable. Take them off whenever you need to, like looking extra cute on your date.
These braces are virtually invisible. These aligners are clear and much thinner than your average mouth guard.
They help to retain better gum health. Because they are removable, you can clean and floss as usual.
Because they're not metal, you don't have to worry about cutting your gums, either.
You can eat and drink what you want. Chew gum if you wish to without the aligners on, of course!
It also saves you time at the Dentist. You don?t have to worry about working with metal wires to get anything tightened.
Invisalign Braces are very comfortable. As I said earlier, the material is thermoplastic and very smooth. There will be no metal rubbing on your gums or against the inside of your cheeks.
To put it plainly, it is a lifestyle choice.
In other words, it's the perfect braces alternative for people who want to maintain their lifestyle.
Avoid all the standard braces problems when you opt-in to Invisalign.
How Long DoesThe Treatment Take?
Short answer: it varies. Why? because every person's plan is custom-made to their needs. Why? depending on the number of dental conditions you have (e.g., gapped teeth, overly crowded, etc.) will impact the length of your treatment.
I recommend that you take advantage of our free consultation to see what your plan looks like.
How Long Do I Have to Wear Invisalign Each Day?
You should always wear them except when you need to eat or brush your teeth.
That means you will need to wear them in your sleep. If you're afraid you won't be able to fall asleep with them on, don't worry!
Each aligner is custom-made to your teeth, so they should feel comfortable and smooth.
Do I Need to Clean My Aligners? If yes, how do I do that?
Yes. You will need to clean your aligners. The easiest way to clean them is to rinse them in warm (not hot water) water and brush them with your toothbrush each night.
Is Invisalign Treatment Painful?
Some people experience minor discomfort with their new aligners for the first few days.
However, this will go away after a few days as your teeth adjust to the shape of your aligner.
That is quite normal because each set of aligners places pressure to shift your teeth gradually to their desired position.
Your Invisalign aligners should feel comfortable since they are custom-made for your teeth!
Treatment benefits most common dental conditions, such as
Overly crowded teeth, Crossbite Underbite, Open bite, and Deep bite are conditions where Invisalign can help.
Chances are you are an eligible candidate. Our free consultation will give you a better idea of whether Invisalign is right for you.
Take a step towards a healthy smile -
Book
your dental appointment now